Modifications and Upgrades for Anycubic Vyper
Modifications and Upgrades for Anycubic Vyper
Attention! Check the revision of  Anycubic Vyper printer that made the modification. Different revisions of Anycubic Vyper printer have some different parts!

Direct drive extruder for Anycubic Vyper
Nozzle for Anycubic Vyper
Heatbreaks for Anycubic Vyper
Two kinds of metals are used to make the throat tube. Titanium is used in the front part of M6 to reduce thermal conductivity, while copper is used in the back part of M7 to help heat dissipation. The thermal barrier performance is better than that of the original V6 and the printing quality is improved.
Because the original heatbreak uses Teflon tubes, the gap in the middle position is too long, so when making all metal, it is necessary to reduce the middle distance, which will cause part of the copper to be exposed to the air, so we use a tapered design to effectively conduct heat At the same time, it will also reduce the heat in the middle position, so that the heatbreak of this structure can play the best effect.
Size: heat end – M6, heating end – M6
Total length: 6mm
Use for: 1.75mm
Material: Copper & Titanium
Can have some problems with PLA, PETG.
Some untested links to Aliexpress:
Autoleveling sensors and other components for the Anycubic Vyper
Hot ends for Anycubic Vyper

Blowing of creating prints
Wide deflectors Anycubic Vyper printhead Stock fans!
Hero Me Gen6 Master Suite – Extruder/Hotend cooling system by mediaman  . Don't buy docs from author bcs it's not describe how build this mod.
Mellow Exclusive Sunon 3D Printer Blower Fan 5015 24V 0.41A Double Bearing Fan Centrifugal DC Cooling Turbo Fan 5015S
Vyper Voron – StealthBurner by Scero. Highly not recommended bcs it has very overpriced coonection board for $30. You can buy  powerful Bigthreetech's board for this price.
PTFE tube with 1.9 mm inner diameter and tube holders
Reduces retraction amount
Clips for holding the filament feed tube to the printhead ribbon cable
Lightweigth cable management for Anycubic Vyper cables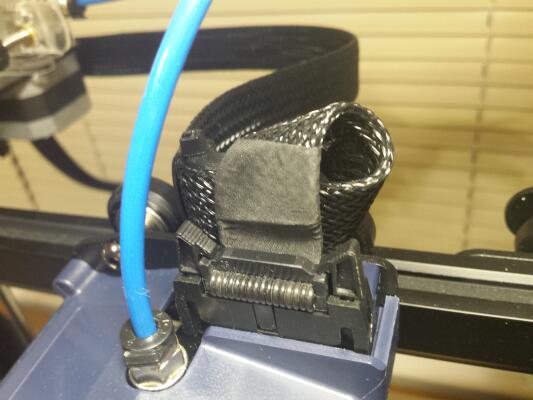 Chains and guides for Anycubic Vyper cables and PTFE tube
A revision: https://www.thingiverse.com/thing:4935924
Belt tensioners for Anycubic Vyper
For X axis:
Vyper Riemenspanner Y-Achse by stenmic (uses stock components)
For Y axis:
Belt for Anycubic Vyper
Anycubic Vyper replacement for axis motor mount
Frame mods for Anycubic Vyper
Anycubic Vyper Adjustable Z-Endstop
Rails mods for Anycubic Vyper
Anycubic Vyper sensor holder and filament guides
Anycubic Vyper Z-axis wobble and noise fixes
You can also put some foam in here:

Anycubic Vyper toolbox organizer
Fillers in Anycubic Vyper frame channels
Cases for Anycubic Vyper
Feet for Anycubic Vyper
Anycubic Vyper filament holder
Anycubic Vyper filament sensor holder
Anycubic Vyper filament guide
Mounts for Anycubic Vyper screen
For Anycubic Vyper printing bed
Lighting for Anycubic Vyper
Cooling Anycubic Vyper motherboard and power supply
Mods for using Raspberry Pi with Anycubic Vyper
Anycubic Vyper main board mods
Feet and supports for Anycubic Vyper